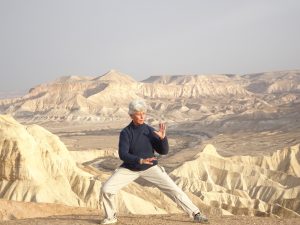 Group lessons in Tai-Chi Chi-Kung are taught in Midreshet Ben-Gurion, facing the view of Wadi Tzin cliffs and Hod Akev, in the garden of my home (51 Harei Edom St., Newe Tzin neighborhood). Sessions are held on Sundays, between 18:15-19:15 pm. It is possible to request
 group lessons in other communities in the region.
In addition, I offer personal sessions, oriented for the specific needs of an individual. You are welcome to contact me to discuss if this is appropriate for you.